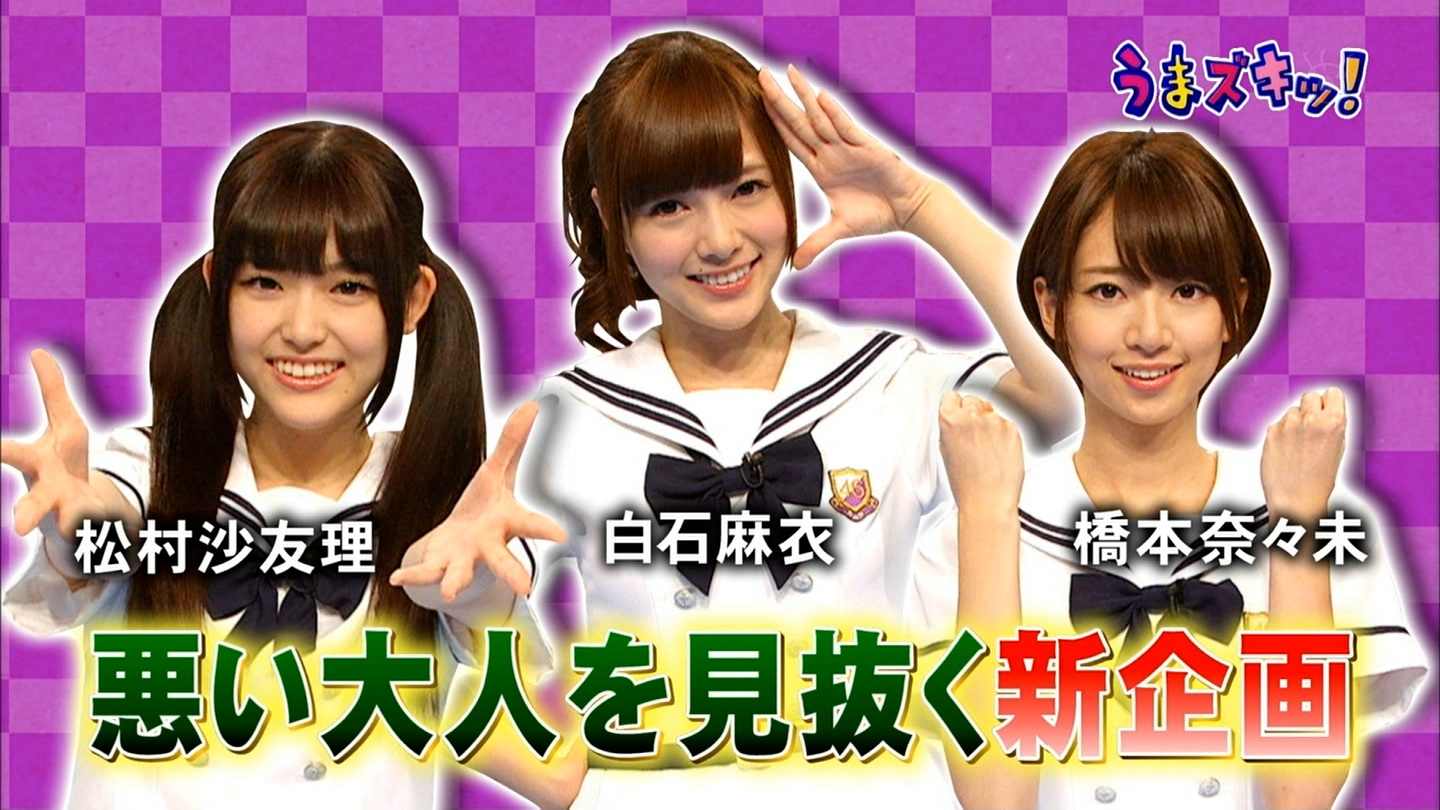 Once again on
Umazuki!
Nanamin & Sayurin were presented alongside with Maiyan! This time around, the trio will be tasked with figuring out who is lying; presenting a fake story! Keep in mind, this is a
Summary Translation
, not word for word, so plz be mindful there might be errors~
It have been suggested in the program that our Nogi-girls are a rather innocent bunch, so that to let them know that the entertainment world is filled with baddies, this segment was designed!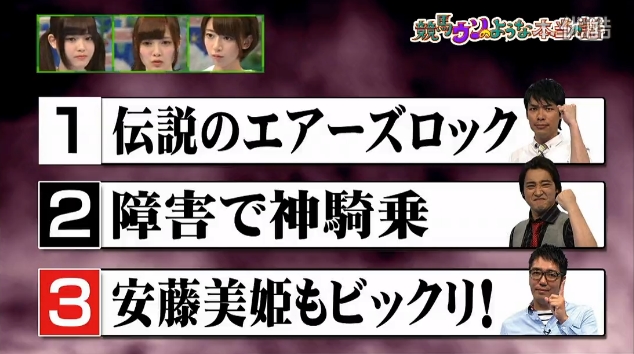 So three individuals were to present stories to the trio! These three were, in the order of their number designation, 1. Kawashima Akira (川島明), 2. Saitou Shinji (斉藤慎二), & 3. Ogi Hiroaki (小木博明) himself. Saitou was chosen to present first however.
stirrups
! So instead of the so-called "monkey style" of riding, the rider was riding is a strait-up position, a position that is in fact dangerous!
Ayers Rock
(エアーズロック), after the world largest rock in Australia. With a great family background,
Ayers Rock
was given high expectation by everyone since birth. However, for some unknown reasons,
Ayers Rock
can't stop gaining weight, & by the age of two already weighted some 700 kg! For comparison's sake,
Ayers Rock
is one size larger than the average horse, with an average weight of some 400 kg! Maiyan's
Kimi-chan
(Kimi no Na wa Centre) for example weight 474 kg.
Ayers Rock
suffered consecutive defeats in competitions since the beginning. After his 22nd consecutive defeats, it was decided that after one last contest, that
Ayers Rock
would retire. Yet, during that last contest, heavy wind & mighty rain occurred! In Japan, such conditions would have led to suspension of the contest. Not in Australia however, & the contest resumed. When the gate opened,
Ayers Rock
charged out without any fear for the wind & rain! & in the end
Ayers Rock
won! Because this story was so moving, it was added to the Australian elementary school textbooks, to encourage students to lost give up because of failure! The trio also found this story very moving. ;_;
Ando Miki
(figure skater, twice World Champion), Ogi said there was horse that continued competing despite being pregnant! The horse's owner did now she was pregnant, & was in fact very confused as to why the horse suddenly gained weight, surpassing 500 kg. The owner tired to decrease the horse's weight, but to no avail. Nonetheless the horse continues to compete despite this. After four competition, one day she suddenly give birth to a calf! Only then did everyone realized that she was pregnant all along. Normally, after giving birth, a horse retires. For this horse however, she continues to compete after giving birth, & in fact achieve five victories afterward!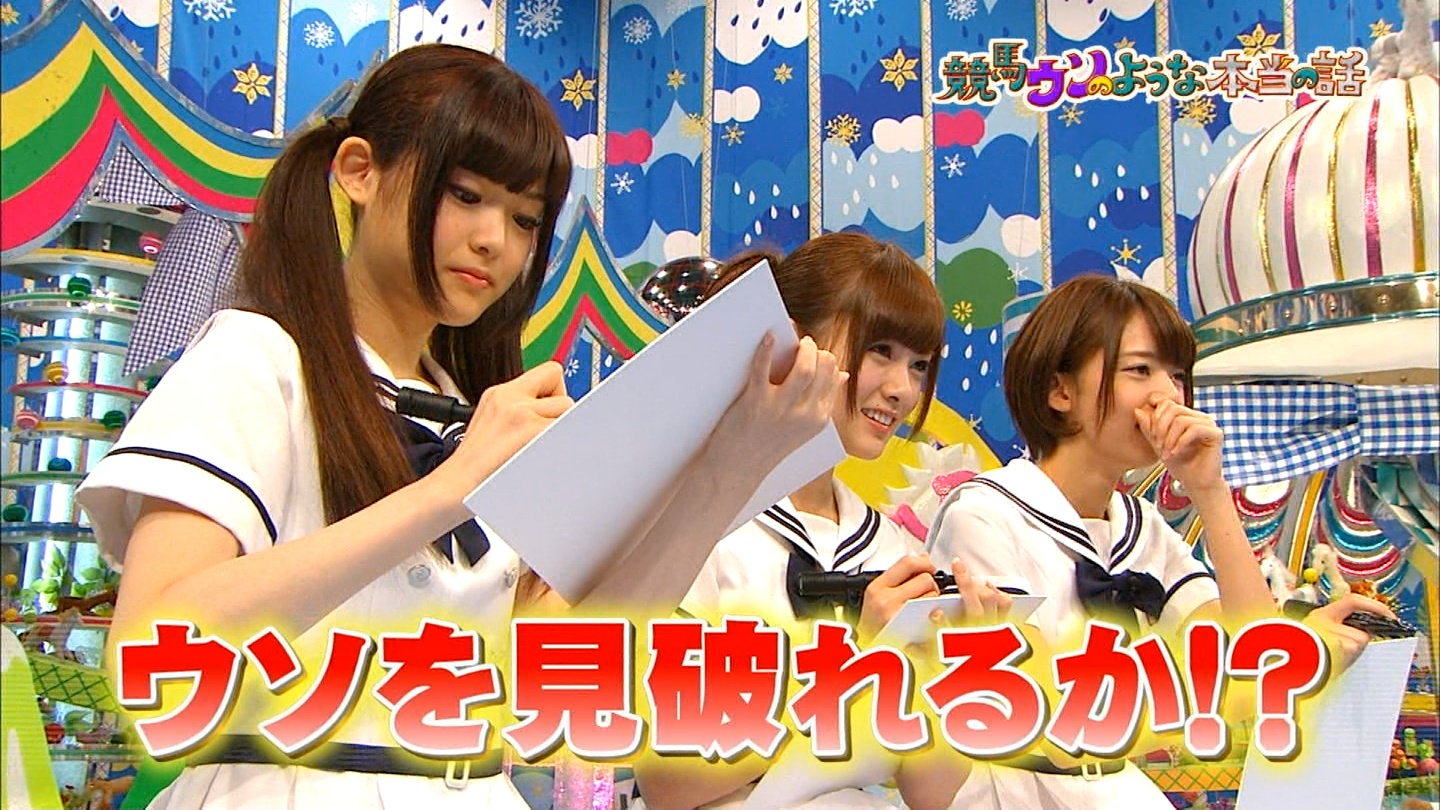 Below is the video for this episode, please do take a look at the beautiful & amusing expressions of the trio, & the sometimes funny presentation of the stories! If for some reasons you can't watch the videos, or want some more Summary Translation for the later parts, you can find them below the video!
Kawashima revealed his sinister smile... t
he trio guessed it all wrong! XD
Sayurin asked Kawashima how much of the story was fake, & he responded that from 1 to 100 its was all fake, & that it was in fact first made up by someone on showbiz for fun, but end up having a lot of people believing it to be true!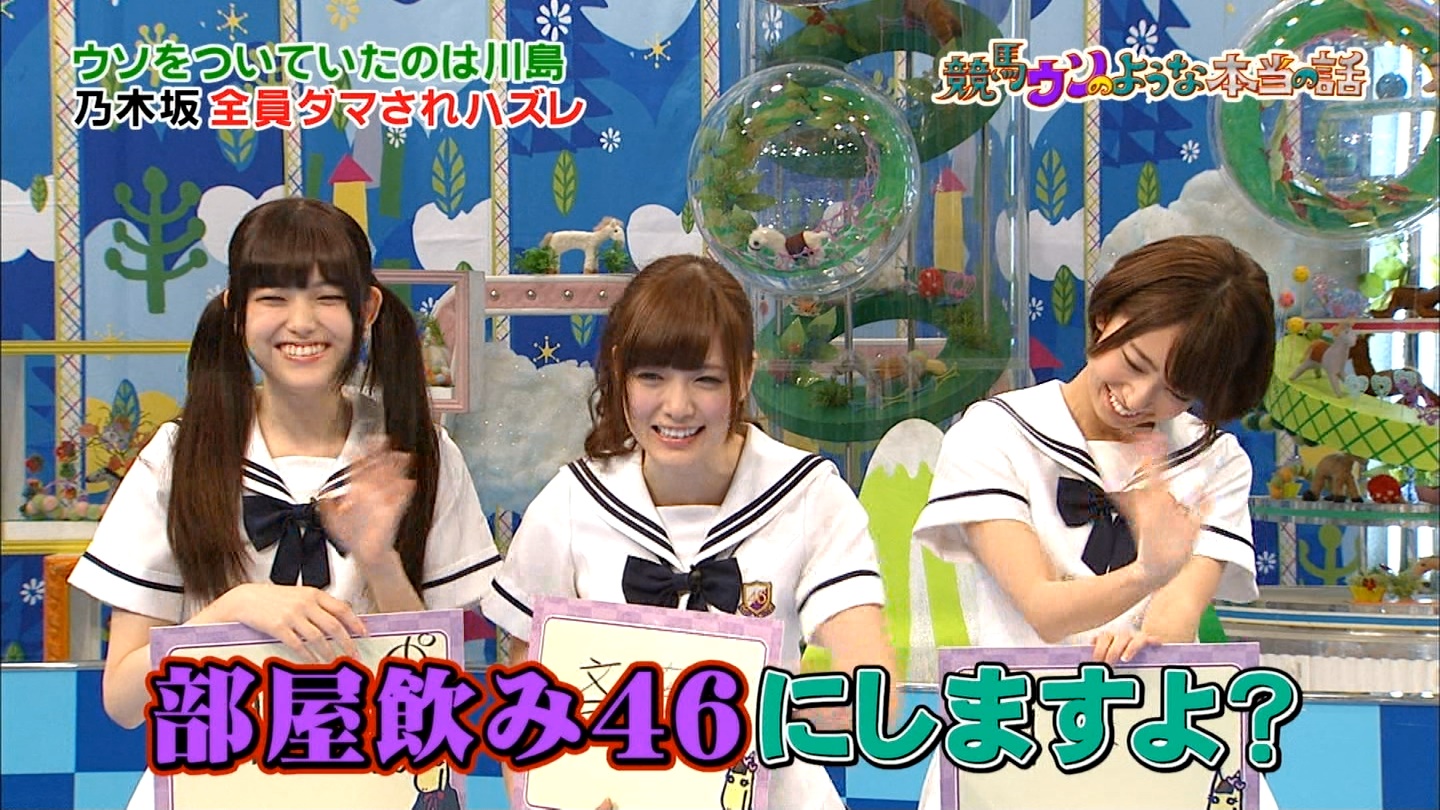 In the end they said that it was quite easy to fool the trio actually! It might be possible to fool them to drink tea in a house too, so that they should be renamed Heyanomi46 (部屋飲み46) lol.
Extra! The footage of that obstacle horse race!